Dr. Joel Cundiff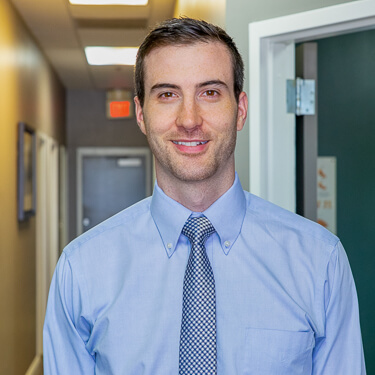 As an avid athlete, Dr. Joel grew up participating in many sports; he wrestled and played baseball and hockey in high school. "Every time I got injured I'd go and see a chiropractor who helped me to stay in sports."
Appreciating the Holistic Nature of Chiropractic
Dr. Joel likes that chiropractic looks to help the whole body naturally versus masking symptoms with medication. He loves caring for patients of all ages and particularly likes helping high school and college athletes stay in the game. Interacting one-on-one with his patients is also a highlight of his job.
A Chiropractic Education
To prepare for his career as a chiropractor, Dr. Joel earned his undergraduate degree in biochemistry from the University of Kansas. He then attended Cleveland Chiropractic College, receiving his Doctor of Chiropractic in 2018. While in chiropractic school, he focused on the Diversified Technique and took many classes in sports chiropractic.
Staying Active in Overland Park
When he's not at the practice, Dr. Joel enjoys spending time with his wife Eryn and their son, James. The family enjoys going to the park. Dr. Joel also plays softball and coaches wrestling at Blue Valley High School, where he attended.
Discover the difference that natural chiropractic care can make in your life. Contact Body Basics Chiropractic today to book an appointment with Dr. Joel!

Dr. Joel Cundiff | (913) 685-0023